Park County Fair Hall of Fame
Adam Shirley & Family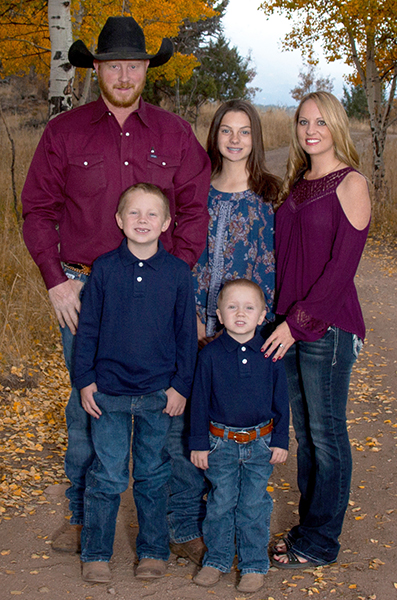 Adam Shirley began showing at the Park County Fair when he was 10 years old, his first entry was a Jersey Steer bottle calf that weighed in at 680 pounds and didn't make weight. Adam went on to show for several years, the last year he showed at Fair he won all three Livestock Grand Champions – Beef, Lamb and Swine. He also took home Senior Champion Showmanship and Senior Round Robin Champion.

Adam's last year of eligibility for 4-H he didn't show because he had joined the Park County Fair Board and the Park County Livestock Committee. Adam has served on the Park County Livestock Committee as President for many years, and continues to serve on the Park County Fair Board, 20 years after joining it. He is a livestock project leader for the Hamburger Helpers 4-H Club, attending meetings and helping to educate the kids about their livestock. As President of the Livestock Committee, Adam is instrumental in planning and putting on Spring Classic, a showmanship clinic open to 4-H members statewide, every year.

The Adam Shirley family- Kristi, Makayla, Colton and Grant have been participants and great Fair supporters for many years. Kristi Shirley has demonstrated her commitment to the Park County Fair by using her talents as the Fair Photographer. Adam says that he couldn't do all that he does for Fair and Livestock Committee without the support at home with all that Kristi does in taking care of things. Their daughter, Makayla, is following in Adams footsteps winning Grand Champion Hog, Grand Champion Lamb, and Junior Champion Showman at the Fair. Last year their sons, Colton and Grant participated in the Tiny Tot's swine show, taking top awards in their first show!

There are many things that the Shirley family does behind the scenes for the Fair and the community, donating time, talent, expertise, equipment and sponsorships. They are a driving force in the Fair and Livestock Committee's success; they can always be counted on to do what needs to be done.