2022: The Gemmer Family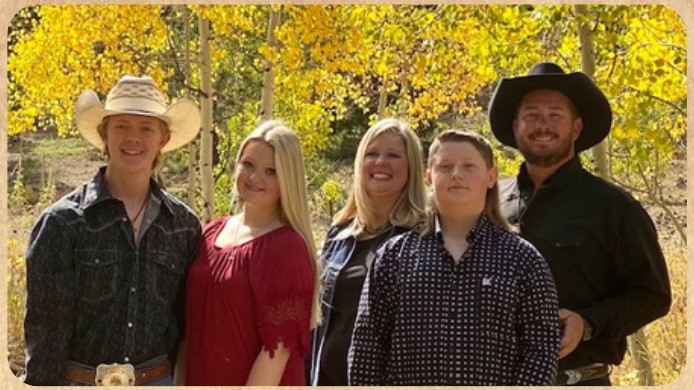 Jason: started his Fair Board and Livestock Committee "career" in 2003'ish. He joined both Boards when Coix was born. His involvement was before that though…..he would help at Fair every year quite a few years before he actually joined the Committee's. He has been involved in 4-H for years as well. He is a livestock leader and shotgun instructor. While on the Livestock Committee he has helped mainstream the sale and computerized the program to integrate the 4-H shows and the sale. He knows the program inside and out. Jason is a large contributor to the sale and its success because of all of his knowledge in this program that is used.
Becky has been involved for many years as well, she has taken her seat at the "secretary" table beside Ed Shirley several times and
unofficially part of the sale committee. Helping at each weigh in. Joining the 4-H leader family in 2015'ish. She has been the Organizational Leader for one of the largest clubs in Colorado (Hamburger Helpers) for over 7 years. Becky and Jason Co-Organize the club now.
Coix started his love for showing livestock at the "Tiny Tot" pig show with a hog named Herman (after his great Uncle). This was his own pig he was raising to sell (to his parents) for meat for our family. Before that Coix sold his 1st steer named Valentino to a 4-H'er Carly Morrison.
Coix won Reserve Market Hog in 2016, Reserve Market Beef 2017. Many years later the money he earned from selling his 4-H animals was enough to buy a bred heifer to start his own herd. This cow brought him through 4-H either selling or showing his cows. With the money he earned through 4-H he was able to co-purchase an apartment building and move to Spearfish, South Dakota. Coix has been involved in Archery and Shotgun in 4-H as well, going to the State competition every year. Coix has been involved in the leadership in his club Hamburger Helpers, was a fundraising leader for several years, vice president and president.
Aubreigh started her forever love of agriculture jumping right into showing baby calves the Crawford's would bring. Her 1st show here at Fair was with a calf named Diamond. Each year after that she was hooked and would show a baby calf. By her 3rd year in 4-H she won Reserve Grand Champion Showman in Beef and Round Robin! Her and her big brother won Grand and Reserve that year together! Aubreigh is in her 9th year of 4-H, she has been able to purchase her own horse (her other love) and is saving for a vehicle to drive this fall. She is now a Jr in High School and is making plans to go to College for Ag Business. 4-H has brought Aubreigh from being shy and reserved, to a young lady that can give excellent speeches and be able to speak to anyone. She is currently the 2021-2022 Park County Fair Queen Attendant, this is an amazing opportunity to meet new people and use those speech skills. She really shines in this role and loves representing Park County and the Western way of life/agriculture. Aubreigh has been involved in Archery and Shotgun in 4-H as well, going to the State competition every year. Aubreigh has been a Community Service leader for several years and now the Vice president of her club Hamburger Helpers.
Wyatt probably doesn't remember showing a baby calf for his 1st time, he was 11 months old. Since before he was born he has been involved…..unknowingly. Before being eligible for 4-H he was showing in the "Tiny Tot" show and playing trucks in the dirt here in the barn. Wyatt is in his 5th year in 4-H. His 4-H career started with hogs and has grown into cattle as well. In 2021 he won Reserve Champion Market Steer! He loves dirt bikes, fixing things, cooking and his steers. Wyatt is involved in Park County Shooting sports program as well in Archery and Shotgun. Going to State level competition every year. Wyatt has been on the Leadership Team in his 4-H Club as a Fundraising leader for 4 years.
The Gemmer Family is truly an all-around amazing family, their dedication to the Park County Fair and the 4-H program is hard to find. We are all so thankful for their continued hard work, all of their countless hours of volunteering, their knowledge, their kindness and their dedication. We can't thank you enough Gemmer Family, you all are fantastic!
2021: The Egbert Family
2020: Jeff Meyers and Family
2019: The People of Park County
2018: Deborah Lester
2017: Adam Shirley and Family
2016: Park County Government
2015: The Woodward Family
2014: The Everest Family
2013: Tony & Marge Sanborn
2012: Bill & Sylvia Moore
2011: Jim Denison
2010: Scott & Gail Crawford
2009: John & Bonnie Logan
2008: David Carpenter
2007: The Green Family
2006: Eddie Christensen & Family
2004: Alan Swartz
2002: Bill Peterson
2001: Ed Shirley
2000: Salida Motors, The Granzella Family, Wood -N- Hammer