2023 Park County Fair Royalty Contestants
Our Fair Royalty Program is designed to promote awareness and interest in Park County. The Fair Queen and Court share a unique opportunity to share our County's diverse industries. The Fair Royalty Program provides each participant the opportunity to build and enhance confidence in her abilities, poise in her presentations, pride in her accomplishments, and skills in communication.
Applications open on February 10, 2023. Click below to download applications and get more information including the schedule for this year's Park County Fair Royalty Contest.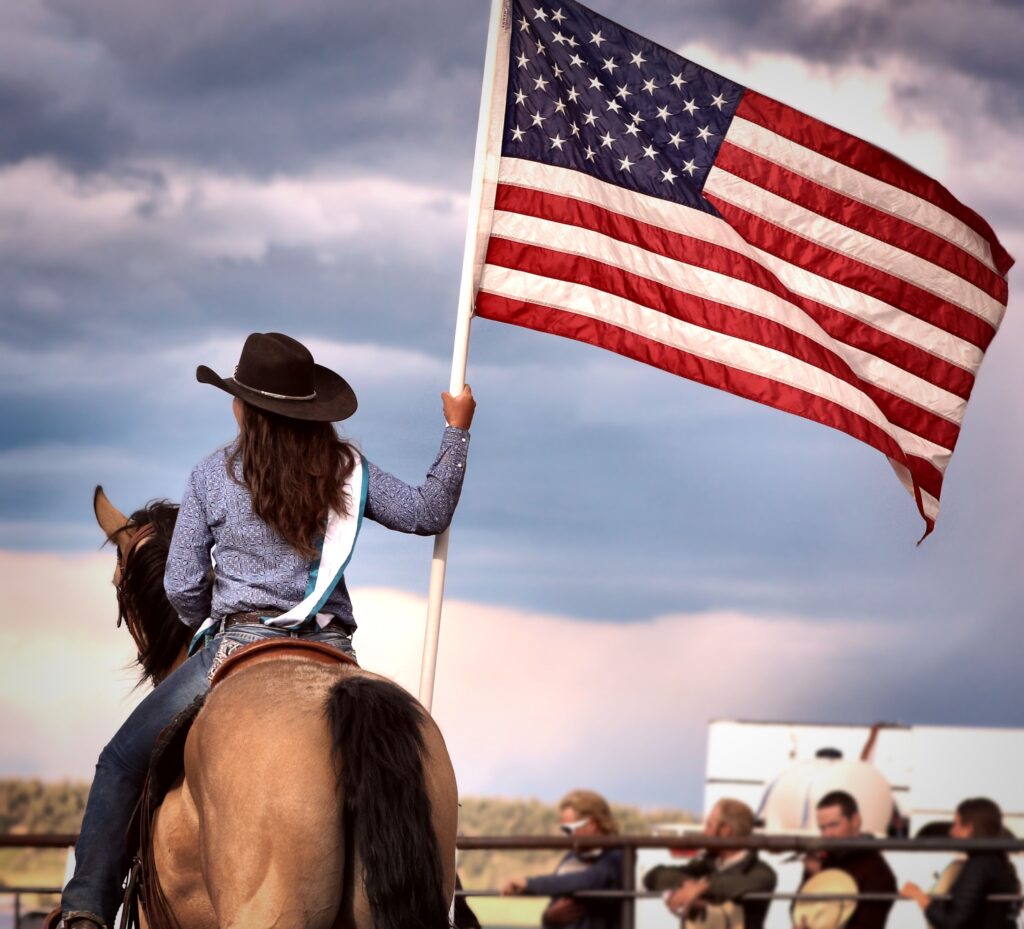 More Info About our Royalty Program
For More Information about the Park County Fair Royalty Program Contact:
Royalty Coordinator – Emily Bowers
parkcountyroyalty@gmail.com
303.946.8925
Meet your 2022/2023 Park County Fair Royalty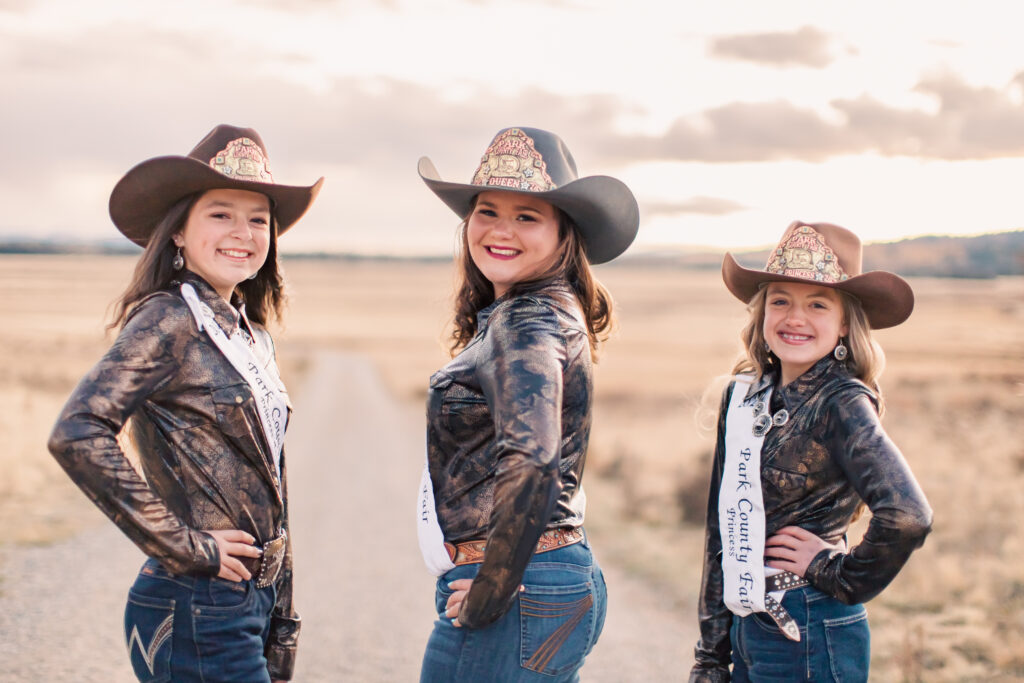 2022/2023 Park County Fair Queen Letter
The Park County Fair can be found in Fairplay Colorado, surrounded by 14,000 ft peaks, along a rolling and colorful river Valley, with Sunsets painted by the beauty of the Rocky Mountains. A rich history of mining and ranching has been twisted among the ancient Bristlecone Pines. Our historic Park County Fair found a home in Fairplay 103 years ago and began as a showcase for the finest our mountain Communities have produced and not much has changed since the beginning.

Come join your neighbors in celebrating The Park County Fair while becoming a part of our history!! Every Summer we gather as a community to enjoy winter's brief departure. We have unbelievable Champion livestock shows, a LIVE Jr. Livestock Auction, with so many Vendors, and amazing live entertainment. Come get your Rodeo on, at our CPRA rodeos. Sitting at 9,953 ft elevation we are hosting the highest rodeo and fair in North America. You will witness the finest horsemanship skills from the most talented and skilled cowboys in the State of Colorado and beyond. Complete with Mutton Busting for the littles, THIS is the most exciting Family fun entertainment Park County has to offer each year. There is something for everyone.
Third week of July 2023. Be sure to check out Parkcofair.com for updates on your favorite events.
SEE YOU AT THE FAIR
Alice Zuber
2023 Park County Fair Queen
Alice Zuber – Park County Fair Queen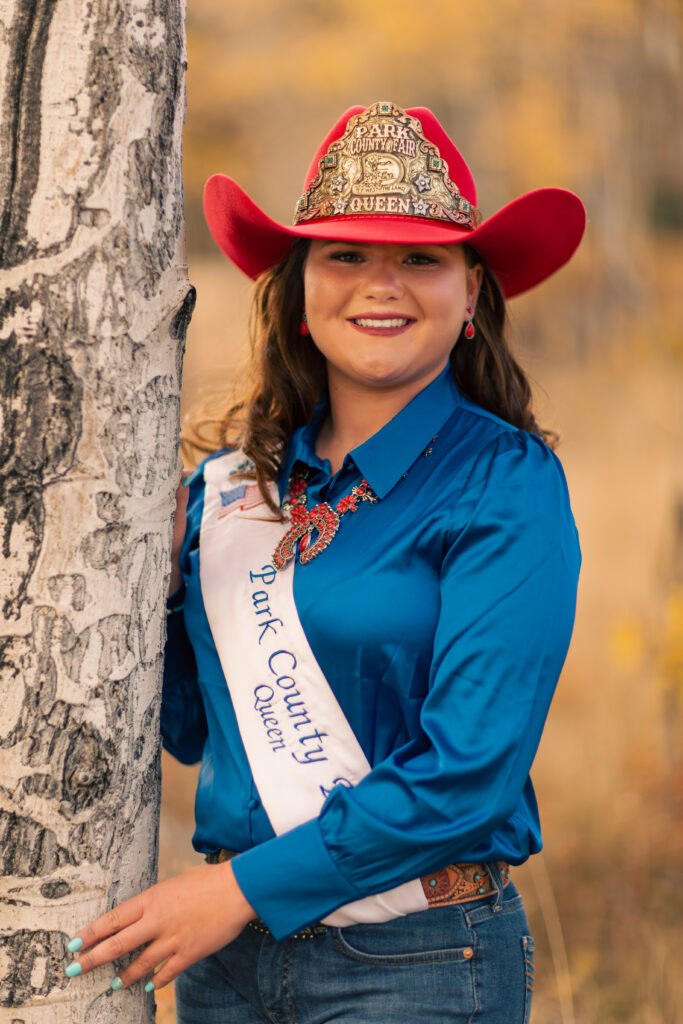 Hello my name is Alice, I am proudly representing as the 2023 Park County Fair Queen.
I am 18 years old and live in Fairplay Colorado.
As my high school years have come to a close, I can't help but look back and reflect on how influential these last 10 years with the Park County Fair have been for me. 2023 will be my last year participating in the Park County Fair as a Junior livestock exhibitor. The last time I enter the ring with my livestock, the last time I will compete for one of the coveted Park County Buckles. The last time I will share the ring with my sisters, and run in the gymkhana with my best Friend Goldie. I have been showing and raising livestock for the better part of my childhood years while representing Colorado State youth Livestock as a 4-H member. The memories and friends I have made during this time have shaped me into who I am today. Next Fall I will be heading to The Wyoming School of Horseshoeing to fulfill a longtime dream of mine, eventually becoming a Ferrier and a part of the solution for these animals, I found a need to help with health, education, and awareness of hoof care for the equine industry.
Being an ambassador for the Park County Fair has become such an important part of my journey to my adult years. I realized I am not only an ambassador for our County and Fair but also for myself and my town. Growing up in the mountains makes us a little nicer, a little tougher, a little more patient, and much more grateful for our community and Fair Families.
The Park County Fair is so much more than the livestock auctions and Rodeo events, this is a special tradition that has been continued for over 100 years for Families and community members with kids showing their prized animals. These events have flourished what our best memories are made of.
Be sure to visit our Park County Fair, July, 7th through the 16th 2023. You won't want to miss our CPRA Rodeos under the lights of our arena in the most beautiful mountain settings in the State of Colorado.
Be prepared to enjoy a kinder way of life and the Western Way!
Jolynn Halt-Stamper – Princess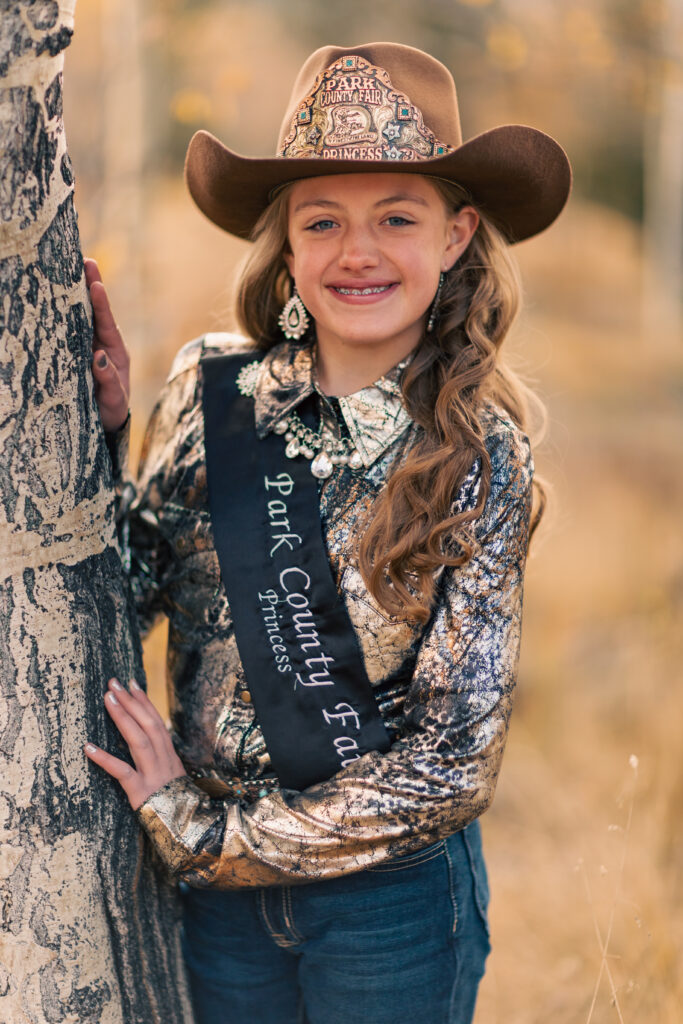 Hello, my name is Jolynn Halt-Stamper. This is my first year in royalty. I just finished my seventh year of 4-H. I have done three years of cake decorating, one year of woodworking, one year of horse, one year of photography, and one year of ceramics. This year I will be doing my second year of woodworking and horse, and my first year of the vet science program. I am the president of Buckskin Joe's 4-H club and have been in that club for 5 years not including 2023.
I am a beginner barrel racer and this summer I will be doing the Jr. rodeo at the fair as well as royalty and the other events at the fair. I have been riding horses for about 9 years. I started out riding with the English way of riding, then about 7 years ago I started riding western. I love riding western and the western way of life. I love the fair because I have met some of my favorite people at fair and things for fair. My favorite event at the fair is our Jr. livestock show, where our 4H-ers sell their animals. I hope to see you at the Park County Fair!
Mariah Sonnier – Princess Attendant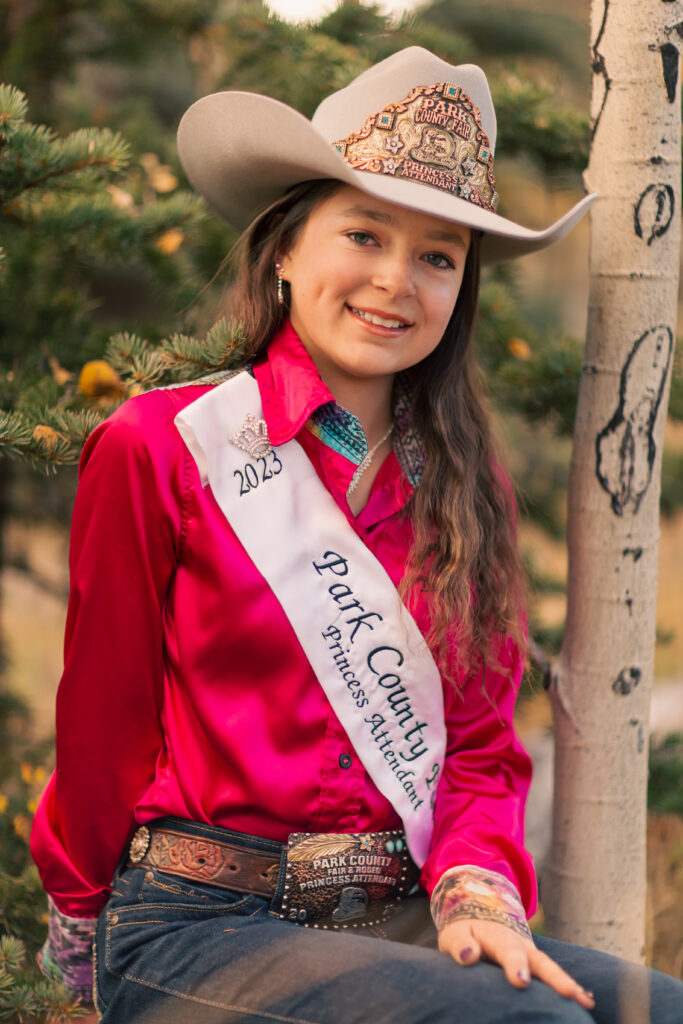 Hello! My name is Mariah "Sissy" Sonnier. I am 13 years old, and I am your 2023 Park County Fair Princess Attendant. I was born in Galveston Texas and moved to Colorado when I was two. I got horses at the age of four. My first ever gymkhana was in Woodland Park and that was where I fell in love with the event barrel racing. I have been barrel racing since I was six! My outstanding horse Sargent San Peppy and I have been barrel racing for seven years! My first 4-H event was at the Teller County Fair where I showed horses, but I have always loved the Park County Fair! Just recently I got my Colorado Professional Rodeo Association Barrel Racing card. Fun fact, my first ever Pro Race was at the Park County Fair
The Park County Fair is truly magical! My favorite things to do at fair are dancing during all the live concerts, competing in the shaving cream war on the last night of fair and of course attending the CPRA Rodeos! Ever since I was little, I have always loved rodeos. If you were to come to the fair I would definitely recommend watching one of the Pro Rodeos at the highest elevation in the world! Or watching all the young 4-Hers show their animals. This year our fair runs from July 7th to the 16th.
I WILL SEE YOU AT THE FAIR!